Arborist, Tree Pruning / Trimming, and Tree Removal Service in the Plano & Dallas, TX Area
At A Perfect Tree, we have nothing but the desire to care for your trees! Since 1994, we've offered full tree care and arborist services including tree trimming and tree removal in the greater Plano & Dallas, TX area. We are your Certified Arborist TX-3236B Experts, offering affordable Arborist services including:
Tree Trimming
Tree Pruning
Tree Removal
Stump Grinding Below Ground Level With The Option Of Dirt Backfill
Consultations
Oak Wilt Treatment / Prevention
Treating Your Trees for Insects and Diseases
Tree Planting
City Code Trimming
Storm Damage Experts
Debris Removal From Your Property
Certified Vista Tree Lighting
Landscape Lighting Installer

Project Videos
Get a real look of our various Dallas and Plano tree care services with videos we have captured over the years

Insured for your Protection
International Society of Arboriculture BCMA- Board Certified Master Arborist TX-3236B
Curtis Hopper BCMA TX-3236B
Texas Department of Agriculture Pest Control License - License TDA #0486846 To treat your trees, lawns, and the outside of your house for insects and disease.
We now have an Arborist Tracked Lift that will go up to 72 feet high, fits into backyards and make those rotting impossible deadly trees safe and easier to get done.
For a Free Estimate Call 214-288-0783

State of the Art Arborist Equipment
Our 72 foot Arborist Tracked Lift allows us to safely reach all areas of even the tallest trees, as well as remove rotting trees which can be unsafe to climb. Need help hanging Christmas lights or another "way up high" project? We can bring our lift to your home or business for only $175/hour (3 hour minimum and travel time one way).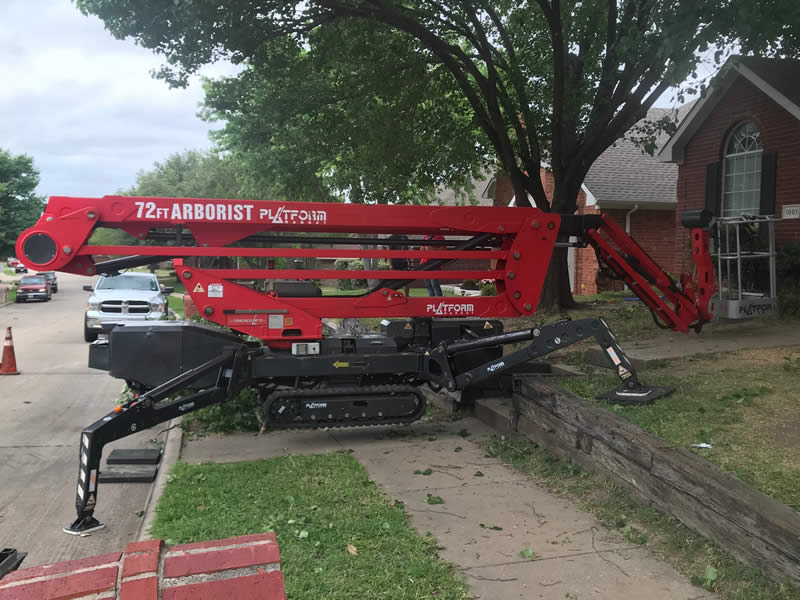 In the Press

Check out our interview, Removal of Storm Damaged Trees on TexasHomesForSale.com, one of the top sites for homes for sale in Texas.